Read: Philippians 3:20-21
But our citizenship is in heaven, and from it we await a Savior, the Lord Jesus Christ. (v. 20)
I was recently visiting with a patient who had endured a long battle with debility, also known as "failure to thrive." She was living in her daughter's house and receiving excellent care from her family. Yet losing her independence was difficult for her. "I want to go home," she told me. I tried to help her understand the limiting factors keeping her at her daughter's house. "No, I want to go home." As she weakly pointed her finger up, I realized that she was speaking of heaven, not her earthly home.
My initial reaction to her statement shows how easily we settle into this world and put down our roots. In reality we are merely sojourners passing through this world. We await our true homecoming, where we claim the rights of our real citizenship—which is in heaven. As death approaches, we become keenly aware of the weaknesses of our bodies, and the yearning for that which is eternal increases. Nothing else can fill that void in our hearts. In this process God reminds and reassures us that he has our needs covered.
Faith in Christ gives us security in expectation of a glorious homecoming that stands in stark contrast to the deterioration of our bodies. Without Christ, the end of life can leave one feeling completely uprooted as all that is familiar fades away. Trust God, who is building an eternal home for you! —Joel Plantinga
As you pray, thank God for providing an eternal home for you.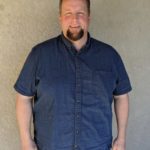 Rev. Joel Plantinga has now been in full-time pastoral ministry for more than 20 years. He serves as the Lead Pastor of Desert Winds Community Church (RCA) in Palmdale, California, and is married to Teresa with children Noah, Eden, and Rachel.