Read: Isaiah 12:1-6
Give thanks to the LORD, call upon his name, make known his deeds among the peoples, proclaim that his name is exalted. (v. 4)
This beautiful, thoughtful hymn of praise to God is the climax of the first twelve chapters of Isaiah. It is his vision of the grace and glory of the coming Messiah.
This song has two stanzas, each beginning with the phrase "in that day." Sometimes this phrase announces God's judgment, but more often it announces God's saving love and grace, so powerfully expressed here. This teaches us that, beyond any punitive dimension of God's judgment, God's ultimate goal is that people will experience his transforming grace and know true joy, fulfillment and purpose.
The experience of joy is expressed in a beautiful metaphor: "With joy you will draw water from the wells of salvation." (v. 3) This suggests an ongoing walk with God and the reality of his comfort, strength and guidance.
In addition, God issues a distinct call to us to proclaim among the nations what the Lord has done, so people will know his saving love. God chooses us to achieve his saving purposes among the nations by calling us to participate in world-wide evangelism. The hymn The First Song of Isaiah by J. N. White is based on this passage: "Help me to know the fullness of your love in Christ, / To express my gratitude in hymns of praise, / And to fulfill my responsibility in making your love known throughout the world." —Gordon Van Wylen
As you pray, read this passage again and add your own praises and thanksgiving for God's love and forgiveness.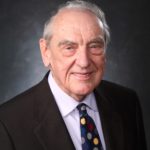 Gordon Van Wylen served as the Dean of the Engineering School at the University of Michigan, and was the President Emeritus of Hope College. Dr. Van Wylen died in 2020.