Read: Psalm 147:1-11
Great is our Lord, and abundant in power; his understanding is beyond measure. (v. 5)
During the early days of the Covid-19 pandemic, people felt helpless, and many turned to panic buying. Store shelves were empty of toilet paper, soap, hand sanitizer, and meat. Retailers imposed limits on these important staples as shoppers stood in long lines to buy their quota.
Thinking back on the shortage of goods, I began to think about all the ways that God is not limited. Looking at the majesty of his world, we realize that he has limitless creativity. The Creator made the snow-covered peaks on the tallest mountain and the smallest of flowers. He is not only the Creator of everything, he also cares for his creation with his endless supply of resources. Thanks to Jesus we are assured that our heavenly father's love, grace, and forgiveness for us will never run out. The psalmist wrote that the Lord's understanding has no limit. He completely understands everything and that includes us. When we have trouble understanding ourselves, we can ask our Creator for help because he understands us perfectly.
By constantly talking about it, the news media made the scarcity of some items even worse. I am glad that we do not have to worry about running out of anything when it comes to God. May each of us join with the psalmist by singing to the Lord with grateful praise because he is our powerful, loving God who has no limits. —Steven Laman
As you pray, praise God that he is not limited in any way.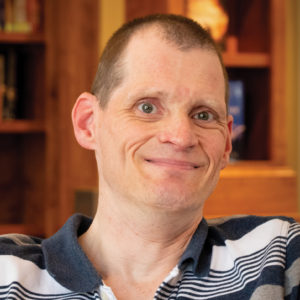 Steven Laman is a writer and public speaker who has lived with cerebral palsy since his birth in 1970. Steven is a prolific devotional writer for Words of Hope, and the author of two other books: Strength in Weakness and My Grace Is Sufficient. He also volunteers as a teacher's aide. He lives with his parents in Iowa.