Read: 1 Thessalonians 1:1-10
. . . to wait for his Son from heaven, whom he raised from the dead, Jesus who delivers us from the wrath to come. (v. 10)
"Early is on time, on time is late, and late is unacceptable." One of my professors drilled this into me when I was in seminary. Showing up early for a meeting was a way of showing respect, but making someone wait was the height of selfishness. In this passage, however, Paul commended the Thessalonians for their waiting. He praised them for their work of faith, labor of love, and steadfastness of hope, and went on to say they were an example to the believers in Macedonia and Achaia not only because they turned away from idols, but because they were waiting for Jesus.
In this Advent season, we also find ourselves waiting. We wait for all the Christmas decorations to come out, for our favorite Christmas hymns and carols, and some of us might even sheepishly admit that we are waiting for those Hallmark Christmas movies. For others, however, Christmas is not necessarily a happy time, and we wait for God to show us that he remembers us.
We don't just wait for Christmas, though; ultimately we wait for Jesus. When he returns again, he will come to judge the wicked and deliver the righteous. To those who have placed their trust in Jesus, his return will be a joyous occasion. In this Advent season, we wait for our Savior, the Messiah, who will return to renew all things. —Felix Theonugraha
As you pray, ask God to strengthen you as you wait for the return of Christ, our Savior.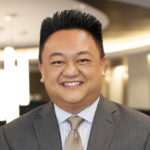 Dr. Felix Theonugraha is the President of Western Theological Seminary and Professor of Educational Leadership. Dr. Theonugraha draws upon the call of Jesus to shepherd and serve the institution to continue its mission, participating in God's ongoing redemptive work in the world.