Read: Matthew 28:16-20
Now the eleven disciples went to Galilee. (v. 16)
We often call this passage "The Great Commission," and with good reason. A commission is a command to do something specific on behalf of someone else. The Great Commission sounds the farewell message of the risen Lord to his followers, and includes his charge to "make disciples of all nations." They were to go, baptize, and teach all that he had commanded, so that Jesus may have his faithful followers in all the tribes and peoples of the world.
Equally grand is the companion promise. You could call this "The Great Encouragement": Remember, "I am with you always, to the end of the age" (v. 20). Making disciples of all nations is a huge assignment. Believers in many places around the world face menacing obstacles. They often meet with rejection and persecution. They are sometimes isolated and threatened with loneliness. They feel totally inadequate. But the promise of Jesus, the presence of Jesus, and the power of Jesus make all the difference.
The "always" in this promise translates the Greek phrase "all the days." Yes, today, tomorrow, and every day till Jesus comes again, he pledges himself to go with us. And he is, as David Livingstone once wrote, "a gentleman of the strictest honor, who always keeps his word." —William C. Brownson (October 14, 1998)
As you pray, thank Jesus for promising to be with you and all believers today. Pray for believers who face persecution today.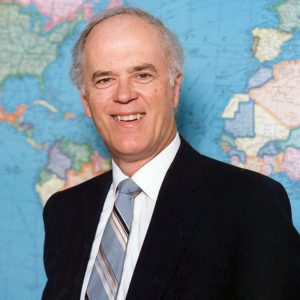 Dr. William C. Brownson was the President Emeritus of Words of Hope. Dr. Brownson served Reformed churches in Lodi, New Jersey, and Chicago, Illinois. In 1964 he was appointed Professor of Preaching at Western Theological Seminary, a position he occupied for ten years before serving at Words of Hope. In addition to a widespread speaking ministry in churches, on university campuses and at conferences, Dr. Brownson wrote extensively for the Church Herald, other Christian periodicals, and authored many books. Dr. Brownson died April 1, 2022.