Read: Psalm 100
Enter his gates with thanksgiving, and his courts with praise! (v. 4)
Imagine you've been given a meeting with your favorite celebrity or someone you've always admired. You have an opportunity to be in the presence of this person; both to speak to and hear from that person. But when the day of meeting arrives, you get distracted and end up coming late and unready. It's hard to believe you wouldn't make this your priority for that day, isn't it?
I often hear people evaluate worship services as they recount the music, preaching, or activities of the day. While it is the responsibility of every leader to give his or her best for the Lord, each believer is equally responsible and accountable for being prepared for worship, ready to encounter our living God as we approach the throne of grace.
I'm convinced that the spiritual battle for praise begins well before you even set foot on your church's property. Some things to think about: first, worship starts before worship starts. Our church puts our worship set online so our people can praise at home as preview to what we use at church. But you can praise on your own no matter what! Second, don't be on time. Be early! As our text says, the Lord is God; he made us, and we are his! Finally, expect God to minister to you. You can experience God's presence even if the music and preaching isn't great, and you can miss him altogether when it's amazing. That, largely, is up to you! —Joel Plantinga
As you pray, ask God to prepare your heart for worship!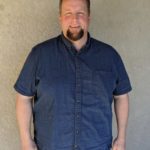 Rev. Joel Plantinga has now been in full-time pastoral ministry for more than 20 years. He serves as the Lead Pastor of Desert Winds Community Church (RCA) in Palmdale, California, and is married to Teresa with children Noah, Eden, and Rachel.