Read: Hebrews 10:19-25
And let us consider how to stir up one another to love and good works. (v. 24)
In an episode of NBC's hit series The Office, Dwight was challenged to do something for a co-worker needing a favor in the best interests of their team. He responded: "We're no more a team than the people staying in the same hotel are a team!"
Just because we attend worship in the same building at the same time doesn't make us a community. The church is the body of Christ, described as being connected to each other. Today's text describes the foundation of our community as a shared confidence that comes from Christ's sacrifice, this amazing truth that he has granted us assurance and forgiveness. As a result, we are urged to hold to our confession and consider how to stir one another to love and good works.
First, when it comes to church, you have to be there to participate in its life. There's a troubling trend, at least in the American church, of Christians viewing worship attendance as less important. More than that, we have to want to be there, a desire that comes from God to celebrate his goodness and grace! Finally, we are commanded to encourage each other to grow up toward maturity in Christ. This means that we connect with others, getting close enough in relationship to have both the perspective and ability to help others towards obedience. We belong to each other and owe it to God to lift up his people. —Joel Plantinga
As you pray, ask God for his perspective on those around you to encourage.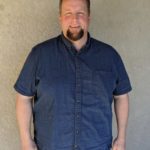 Rev. Joel Plantinga has now been in full-time pastoral ministry for more than 20 years. He serves as the Lead Pastor of Desert Winds Community Church (RCA) in Palmdale, California, and is married to Teresa with children Noah, Eden, and Rachel.