Read: John 9:1-12
Jesus answered, "It was not that this man sinned, or his parents, but that the works of God might be displayed in him. (v. 3)
Why am I in a wheelchair? Why is it so hard for me to make myself understood? Why, Lord, why? The disciples posed the same question to Jesus about the man who was born blind. "Rabbi, who sinned, this man or his parents, that he was born blind?" (John 9:2).
Jesus said in John 9:3 that his blindness (and many other disabilities) are not a result of sin. I am sure my parents were overjoyed to hear this truth. If my disability had been caused by their sin, I know they would have great guilt. Jesus set the disciples straight, and he sets us straight too.
If my disability is not the result of sin, then why did God allow it to happen? The answer comes in the second part of Jesus' answer to the disciples, "but that the works of God might be displayed in him."
God is displaying his work in my life by letting me encourage people through my writing and through my joyful spirit. It always amazes me how God uses my disability for his glory. You may not have a disability like the blind man or like me. But know that when trials happen in your life, God can always turn them into something for his glory. —Steven Laman
As you pray, ask God to help you accept the answers to the "why" questions in your life.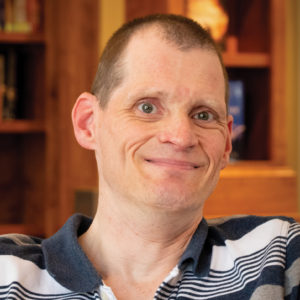 Steven Laman is a writer and public speaker who has lived with cerebral palsy since his birth in 1970. Steven is a prolific devotional writer for Words of Hope, and the author of two other books: Strength in Weakness and My Grace Is Sufficient. He also volunteers as a teacher's aide. He lives with his parents in Iowa.