Read: Habakkuk 3:17-18
The apostle Paul's word to Christians is, "Rejoice in the Lord always, I say it again, rejoice." But is that really possible?
Sooner or later, most of us meet with hard times. Maybe we have family troubles, bouts with serious illness or some desolating grief. Things go badly wrong at work. We have financial reverses. Our best hopes, our fondest dreams are smashed. We feel numb with the shock of one cruel blow after another.
Maybe you can remember times like that in your life. Maybe you're in the midst of them right now. Or it could be that deep waters are ahead for you. Who can tell?
When things are really bad for us, we don't want pep talks or advice, do we? They often seem to come from people who don't have any idea of what we're going through. It's easy for them to talk; they're not where we are. We tend to resent their telling us how to deal with our problems.
Often the best thing we can bring ourselves to hope for in tough times is simply that we'll get through, that we'll survive. If we can just hang in there, maybe down the line things will get better. What do you make of it when someone tells you in the midst of such troubles to rejoice? That not only sounds inappropriate; it seems impossible. Who that has ever really struggled and suffered can take seriously a message on "how to rejoice in hard times"?
Yet that's what I'm talking about today. But let me say right at the outset that I'm not trying to burden you with an obligation. I'm not presuming to say, "You've got to do this." But I do want to suggest a possibility in hard times that most of us may not even think about.
My text comes from an Old Testament prophet who had been through a few hard things himself. He was a struggler who didn't find it easy to believe. He had a lot of hard questions. He was even ready to challenge God about some of his perplexities. But down deep he had a strong faith. Listen to what he said:
Though the fig tree does not blossom, and no fruit is on the vines; though the produce of the olive fails and the fields yield no food; though the flock is cut off from the fold and there is no herd in the stalls, yet I will rejoice in the Lord; I will exult in the God of my salvation.
Now notice, this man Habakkuk is not saying to us, "You people out there, this is what you have to do." He's talking about himself, about what he's going to do. He's lifting up a kind of personal witness for all the world to see. This is how he feels. This is how he's going to face what life will bring him.
A Realistic View
How does this prophet rejoice in hard times? The first thing that impresses me is that he takes a realistic view of the situation. He spells out in detail the calamities that may occur. He foresees a total crop failure: no fruit, no grain. Added to that, he faces the loss of all livestock. Without grain, without feed, the sheep and oxen will languish and die. This is the worst farm outcome imaginable. But Habakkuk looks at it straight on. He's for facing reality instead of denying it. He wants to deal with facts, not wishful fantasy.
That's a necessity, it seems to me, if we're to have any chance at real rejoicing. People who try to cheer us up by minimizing our difficulties are not helpful. They tell us, "Things are not so bad." They act as though there were a simple way to resolve our problems, to do away with our hurts. They give us glib assurances that everything will work out all right. But we know that it's not that easy. We know that wishful thinking won't make hard realities go away.
It may sound strange, but I have sometimes found it helpful to look squarely at what I call "worst case possibilities." The most paralyzing fears are the vague and nameless ones. We don't know what we're afraid of; we're just afraid. The threat is ill-defined, but it seems to fill us with dread. It can sometimes be a blessing in disguise when someone asks us, "What's the worst thing that can possibly happen in this situation?" When we think about that, verbalize it, we get it right out in front of us. Then we can deal with it. We feel even a certain relief. We ask ourselves, "All right, that may come. Can I face it?" We know it will be rough going but, "After all," we say, "it's not the end of the world. We'll manage somehow." Those who can look at the cruelest possibilities and stare them down are on the road to real hope.
The Will to Rejoice
Here's another thing about rejoicing in hard times: it involves the will more than the emotions. We don't understand joy if we think of it only as a feeling. The New Testament writers urge us to rejoice always, rejoice evermore. Suppose that meant "feel happy, feel glad." Could anyone possibly do it? So you've just smashed your thumb with a hammer. Are you going to feel joyful? Someone just crumpled the grill of your brand new car. Are you going to feel glad about that? No, if that were it, no one could manage continual rejoicing. The commands of Scripture would make little sense.
How then can anyone be urged to rejoice? Commanded to be glad? Only if rejoicing is more something you do than something you feel. Apparently there is such a thing as determination to rejoice. Apparently a personal decision is involved. There's room for choice as to whether we'll do it or not. That's what so impresses me about Habakkuk's testimony. He ticks off one disaster after another that may descend, and then says, "Let them all come. I'm still determined to rejoice."
The famous missionary evangelist E. Stanley Jones had some interesting things to say about this in his biography. Somewhere along the line he had made up his mind that circumstances were not going to dictate his moods. He wouldn't be dominated by them. He would make them, as he says, "serve." If strong headwinds of adversity were coming at him, he'd make them take him up, not down. If anything threatened to destroy him, he'd find a way to have it build him up instead. And whatever threatened to drown him in despair, he would make an occasion for gladness.
Have you ever thought of this—that when everything else is taken from you, you can still choose the attitude you're going to take toward what's happening? I was moved to read that from a doctor who had spent many months in a Nazi concentration camp. He talked about what it's like to have your freedom taken away, your privacy, your food, even your clothing. You haven't anything left except the right to decide how you're going to react. No one can take that away from you. No power on earth can compel you to be bitter and complaining. You can still say, as Habakkuk did, "Come what may, I mean to rejoice."
But why would anyone do that? Or more to the point, "How could anyone do it?" Rejoicing in the midst of atrocious circumstances is hardly normal. It sounds downright absurd. Anyone who would try to be happy in the midst of heartbreak must have taken leave of his senses. "Tell us, Habakkuk, or Paul, or whoever else you are, how it can be done."
Rejoicing in the Lord
Here's the answer from the prophet: "I will rejoice in the Lord; I will exult in the God of my salvation." Here it is from the apostle: "Rejoice in the Lord always, and again I say, rejoice." The new possibility, the surprising breakthrough, is not in superhuman will power or psychological technique but "in the Lord." For Habakkuk, that was the God of Abraham, Isaac and Jacob. For Paul, it was the same God made known supremely in his Son, Jesus Christ. He is the secret of an utterly invincible joy.
I had my first glimpse of that at one of the saddest times in my whole life. When our firstborn son, my namesake, Billy, was almost seven years old, he was stricken with measles encephalitis. When I heard the news, I had to drive several hours to get where Billy was. When I finally arrived, I found my son lying in a big bed, wild-eyed, twitching uncontrollably. His fever kept going up—105, 106, 107. We had a painfully difficult time getting hold of a doctor, and finally rushed Billy to a hospital. After he was examined, the news was grim. "Your son may not live," the doctor said. "And if he does, he may be left with extensive brain damage." I remember riding back from the hospital in my father-in-law's car, tears splashing down in my lap. I had never felt so heartsick, so crushed before.
But I have to tell you that that wasn't all I was feeling. In the depths of my life, along with that piercing sorrow, there was also a kind of peace. God was there. I knew that he loved me. I knew that he loved Billy, and that somehow all would be well in spite of what had happened. It dawned on me then that a person really can grieve and rejoice at the same time.
How else can people rejoice in hard times? If you take sorrow out of life, what happens to love? Whenever you love anyone, you become acutely vulnerable, don't you? That's the hazard of forming a friendship, or having a child. You have many more reasons to rejoice than you had before, but also a far greater surface for feeling pain. And if you care at all for people outside your circle of family and friends, you must feel hurt when they are deprived or devastated. How can anyone be human in a world like this without being touched by sorrow?
But that doesn't mean you can't rejoice. I wish you could have known a lady I used to visit. Her name was Mrs. Terhune. When I knew her, she had gone through a staggering series of losses. Six of her seven children had already died! One at two years, one at three, one at twelve, one at thirteen, and on it went. She had gone through major surgery four times. But that lady was radiant. She talked to me every time I went to visit her about how good the Lord had been to her, how she didn't know how she would have gotten along without him.
I was a very young man at the time, relatively untouched by deep hurts. I simply couldn't understand how this woman could be as positive and happy as she evidently was. Mrs. Terhune showed me that this marvel actually occurs. God's people do rejoice in hard times.
And he himself is their secret. What we celebrate is the Lord, not our circumstance. You are nowhere summoned in the Scriptures to rejoice because your body is racked with pain, or your loved ones are wrenched away from you in death, or the work of a lifetime collapses before your eyes. Only demons or fools laugh at disasters. But friends, you can rejoice in the Lord in the midst of those things.
The truth that no calamity destroys is this: God is, and he's with us. His faithfulness endures. Nothing can tear us away from his love. The remembrance of his past mercies and the experience now of his presence and his strength—that's what makes rejoicing possible.
We say, "I can do all things through Christ who strengthens me." That includes, believe it or not, rejoicing in hard times. Habakkuk knew that; so did Paul; so did Mrs. Terhune. And millions of other people have found it to be true too. I'm one of them, one of those overtaken by joy even in trouble and sadness. I hope you are too. I know you'll have hard times. May you also have joy in the midst of them!
That it may be so, let me commend to you our Savior Jesus Christ. He is the One in whom God's love reaches down to us and becomes amazingly real. He is the One who died for our sins and has been raised from death to never-ending life. He's the One who sends his Spirit to the hearts of his people, giving them a power to rejoice in the worst afflictions.
If you will acknowledge to God your need, your sin, your wrongheadedness and hardheartedness; if you will welcome the risen Jesus as your Savior, calling on him as Lord, he will become your life. Then like the prophets and apostles, you can face the future unafraid. You can meet the best or the worst and say, whatever comes, "I will rejoice in the Lord. I will joy in the God of my salvation."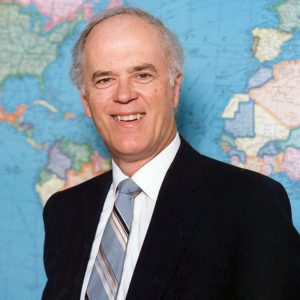 Dr. William C. Brownson was the President Emeritus of Words of Hope. Dr. Brownson served Reformed churches in Lodi, New Jersey, and Chicago, Illinois. In 1964 he was appointed Professor of Preaching at Western Theological Seminary, a position he occupied for ten years before serving at Words of Hope. In addition to a widespread speaking ministry in churches, on university campuses and at conferences, Dr. Brownson wrote extensively for the Church Herald, other Christian periodicals, and authored many books. Dr. Brownson died April 1, 2022.