Read: Ephesians 1:15-23
I do not cease to give thanks for you, remembering you in my prayers. (v. 16)
Over the years I've tried to cultivate the habit of starting each day by thinking of someone to be thankful for. I'll be brushing my teeth, or shaving, and I'll think: Who should I be thankful for today? Once I even put a sticky note on the bathroom mirror: "Be Thankful for Someone." God has sprinkled so many wonderful people into my life, and being grateful for them only seems right and proper. Beyond that, gratitude has a way of making me feel peaceful and calm. What a pleasant way to begin the day.
Again and again in his epistles Paul thanks God for friends and fellow believers: "I thank my God in all my remembrance of you," he says to believers in Philippi (Phil. 1:3). Here in Ephesians, Paul says, "I do not cease to give thanks for you, remembering you in my prayers." Paul is generous with gratitude.
If you're anything like me, you have a lot of people to be grateful for. Some people we can name—parents, teachers, mentors. But many are anonymous—the fellow who held the door open for you, the driver who allowed you to merge into traffic, the hospice nurse who was so loving to your grandfather in his last days. Your Advent activity for today may seem profoundly simple, but its effect can be simply profound: Be thankful for someone. —Lou Lotz
Today's Activity: Think of someone you are thankful for and send them a note to tell them.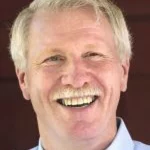 Rev. Lou Lotz is a recently retired Reformed Church pastor. Lou and his wife Mary Jean live in Hudsonville, Michigan.