Read: Luke 1:26-38
Behold, I am the servant of the Lord; let it be to me according to your word. (v. 38)
Imagine God tapped you on the shoulder and said, "Excuse me, but I have work to do in this world, and I could use a little help. Would you give me a hand?" It doesn't usually happen quite that way, of course, but Scripture teaches that the fulfillment of God's purposes requires human cooperation.
Presumably, God could have sent the Messiah down from heaven fully grown, with no human help whatsoever. But instead, God chooses to be dependent on our human response to the divine initiative. So he sends the angel Gabriel to tap Mary on the shoulder, so to speak, and inform her that her help is needed. Think about it: the plan of Almighty God, creator of the universe, cannot unfold without the cooperation of this ordinary young woman. The plan of salvation cannot be initiated without her willingness to face the pain, the risk, the shame and suspicion, and say, "Behold, I am the servant of the Lord; let it be to me according to your word" (v. 38).
Resistance to authority is popular nowadays, and at times it's the right approach. But cooperation is equally important. Mary's cooperation with God was bold, and something wonderful happened as a result. What work might God do in your community, your church, your country that can only happen with your cooperation? —Lou LotzToday's Activity: Make a list of things you sense God might be wanting to accomplish in this world, and then write down one tangible thing you can do to cooperate in that effort.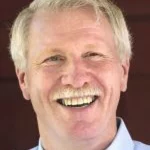 Rev. Lou Lotz is a recently retired Reformed Church pastor. Lou and his wife Mary Jean live in Hudsonville, Michigan.