Read: 1 Corinthians 15:35-49
But someone will ask, "How are the dead raised? With what kind of body do they come?" (v. 35)
Apparently some of the Corinthian Christians were having difficulty understanding the idea of a resurrected body. (Who doesn't struggle with that?) "How are the dead raised?" they were asking. "With what kind of body do they come?"
In a parable-like reply, Paul likened death to the sowing of seed: "And what you sow is not the body that is to be, but a bare kernel, perhaps of wheat or of some other grain" (v. 37). There is an intimate relationship between the seed that is sown and the plant that ultimately grows to fruition. But if you had never seen a full-grown stalk of corn, could you describe what one looked like if I handed you a kernel of seed corn? Probably not. Similarly, we cannot even begin to describe the resurrected body by simply observing the bodies we now possess. I am content to say that when I am resurrected, I will be completely different, but I will be completely me. The resurrected body will be wondrous, glorious, imperishable, and like unto Christ's resurrected body.
Friend, death is not the end of the road; it is a bend in the road around which we cannot see. Yet the risen Lord has traveled the road before us, and awaits us at journey's end. "But thanks be to God, who gives us the victory through our Lord Jesus Christ" (1 Cor. 15:57). —Lou Lotz
As you pray, praise God for the promise of resurrection and eternal life.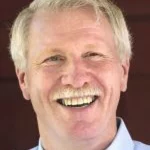 Rev. Lou Lotz is a recently retired Reformed Church pastor. Lou and his wife Mary Jean live in Hudsonville, Michigan.