Read: 1 Peter 3:18-22
Christ also suffered once for sins. (v. 18)
The church I attend places a baptismal font in the lobby. As people enter, believers are reminded of God's covenant promises at their baptism. Among them, God promised to completely forgive us through the blood of Jesus. Peter likened baptism to Noah in the ark being "brought safely through water" (v. 20). Our "ark" is the crucified and risen Christ. Baptism is a sign pointing to what Jesus did on the cross and a guarantee that our future in Christ is secure. The water doesn't save us. Only the blood of Jesus does that. By trusting him, our sins are forgiven. And like him, we will rise and join him in heaven (v. 22).
I sometimes have a hard time accepting that profound truth. The Devil taunts me with my past sins like a weight I can't seem to let go of. Seeing the baptismal font reminds me that I am in fact forgiven and I do indeed belong. A most helpful word in the text is "once" (v. 18). Christ suffered once for sins. Hebrews 9:28 adds that Jesus was "offered once to bear the sins of many." In Jesus, all our sin is dealt with once and for all.
We can let go of past sin. We have been brought safely through water. Sometimes when I walk past that baptismal font on my way out of church, I run my fingers under its water as a reminder that it is finished. Christ has won. My sin is paid for. I carry it no more. —Jon Opgenorth
As you pray, ask God to remind you that you are forgiven and you belong.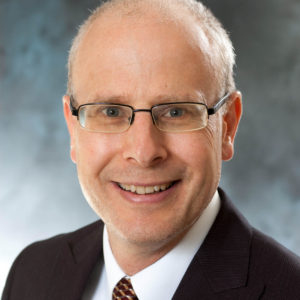 Rev. Jon Opgenorth serves as president of Words of Hope. Previously, he served for 18 years as senior pastor at Trinity Reformed Church in Orange City, Iowa. In preparation for ministry, he received a BA in Religion from Northwestern College, and an MDiv from Fuller Theological Seminary.