Read: Psalm 46
Be still, and know that I am God. (v. 10)
When I asked one of my Bible study friends what he most wanted for Christmas, he gave a wistful sigh and said: "Some stillness and silence would be nice." How about you? Our Bible reading today suggests that God wants that for us even more than we want it ourselves. Psalm 46 begins with a promise that God will protect us in the hardest times, and it ends with a forceful command to be still.
I worry, sometimes, that I'm not cultivating that stillness. I'm not listening, not paying attention to God, not cultivating a quiet place on my insides where the voice of God can find resonance. I go skipping from one diversion to the next, skimming along on the surface of life and not going deep. Noise, hurry, and confusion seep into my life. Perhaps if I relied on God more as my refuge, he wouldn't need to command me to be still and accept his help.
When I catch myself in a blur of worry and hurry I stop what I am doing, take a deep breath, and say to myself: "Be quiet. Be still. God is in control." To be still doesn't mean doing nothing. It means to stop acting like everything depends on you. It means to cease striving. The hymn writer Kathrina von Schlegel said it best: "Be still, my soul: the waves and winds still know / His voice who ruled them while He dwelt below." —Lou Lotz
Today's Activity: Find a quiet place, by yourself. Turn off your phone and other distractions, and take five minutes to sit in the stillness. Where do you need to relinquish control?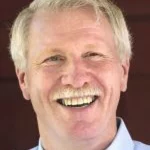 Rev. Lou Lotz is a recently retired Reformed Church pastor. Lou and his wife Mary Jean live in Hudsonville, Michigan.