Read: Philippians 2:1-11
Toward the scorners he is scornful, but to the humble he gives favor. (Prov. 3:34)
The apostle Peter quoted this proverb, then drew a practical lesson from it: "Humble yourselves, therefore, under the mighty hand of God so that at the proper time he may exalt you" (1 Peter 5:6).
Paul, in urging the Philippian Christians to submit to one another in humility, cited the example of Jesus. He told them to think like Christ. Though he was God, Jesus didn't cling to his divine status and prerogatives, but lowered himself all the way to a criminal's death. That's the essence of humility—to get lower. "Humble" comes from humus, which is Latin for "earth, or soil." Humility means getting lower with respect to our neighbor so that we can't look down on them. It means lowering our estimate of our own rights in order to serve the needs of others. It means forsaking our privilege and focusing on raising up the down-and-out. It's important to do this voluntarily, because if we insist on being high and mighty, God will bring us down.
Do you recall Jesus' parable of the guests at the wedding feast (Luke 14:7-11)? His advice was to take the least important seats at the table so as not to be embarrassed by the host moving you lower. You want to be pleasantly surprised by God's treatment of you, rather than being humiliated by it. Think how much nicer it will be when he lifts you up instead of casting you down. —David Bast
As you pray, ask God for the grace to get lower.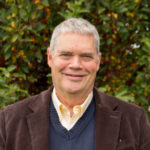 Rev. Dave Bast retired as the President and Broadcast Minister of Words of Hope in January 2017, after 23 years with the ministry. Prior to his ministry and work at Words of Hope, Dave served as a pastor for 18 years in congregations in the Reformed Church in America. He is the author of several devotional books. A graduate of Hope College and Western Theological Seminary, he has also studied at both the Fuller and Calvin seminaries. Dave and his wife, Betty Jo, have four children and four grandchildren. Dave enjoys reading, growing tomatoes, and avidly follows the Detroit Tigers.