Read: Matthew 18:21-35
Whoever closes his ear to the cry of the poor will himself call out and not be answered. (Prov. 21:13)
You're familiar with the concept of poetic justice. We call it "poetic" because it's kind of sweet and fitting, like a poem. It appeals to our aesthetic sense; it just seems right. Like Haman being hanged on the gallows he had built for Mordecai. Like the unforgiving servant being jailed for debt after refusing to cancel his friend's little loan. You get what you give. So if we turn a deaf ear to our neighbor's plea for help, we shouldn't expect God to come running when we cry out to him in need.
This is especially true when it comes to forgiveness. There is only one petition in the Lord's Prayer with a condition attached to it: "Forgive us our debts as we forgive our debtors." Jesus went on to reinforce this point, just in case we weren't paying attention while reciting the prayer. "For if you forgive others their trespasses, your heavenly Father will also forgive you, but if you do not forgive others their trespasses, neither will your Father forgive your trespasses" (Matt. 6:14-15). In Luke's account, Jesus expands on the positive side of this principle: "Give, and it will be given to you. Good measure, pressed down, shaken together, running over, will be put into your lap. For with the measure you use it will be measured back to you" (Luke 6:38). I don't know about you, but this makes me want to do a whole lot of forgiving. —David Bast
As you pray, forgive before asking forgiveness.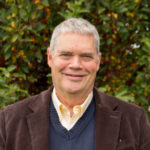 Rev. Dave Bast retired as the President and Broadcast Minister of Words of Hope in January 2017, after 23 years with the ministry. Prior to his ministry and work at Words of Hope, Dave served as a pastor for 18 years in congregations in the Reformed Church in America. He is the author of several devotional books. A graduate of Hope College and Western Theological Seminary, he has also studied at both the Fuller and Calvin seminaries. Dave and his wife, Betty Jo, have four children and four grandchildren. Dave enjoys reading, growing tomatoes, and avidly follows the Detroit Tigers.