Read: 2 Chronicles 20:1-30
Give thanks to the LORD, for his steadfast love endures forever. (v. 21)
When God calls us to "Go!" the enemy will attack, because he lives to hinder God's advancing kingdom. King Jehoshaphat was "devoted to the ways of the LORD," and was turning the hearts of the people back to the Lord (2 Chron. 17:6 NIV). Then not one or two but three armies joined forces and prepared to attack the kingdom of Judah.
What was Jehoshaphat's strategy against this vast enemy? Two essential moves that remain to this day the best response to any attacks we may face as we go. First, Jehoshaphat proclaimed a communal gathering to fast and pray: "We have no power to face this vast army . . . our eyes are on you" (2 Chron. 20:12 NIV). He positioned God's people rightly, looking first to the Lord for help.
Second, the king put the worship leaders out first when facing the enemy. They sang and praised God—berakah in Hebrew—for the splendor of his holiness. As they were worshipping the LORD the three armies turned and destroyed one another. When Judah arrived to battle, their enemy was already destroyed!
Whatever battle we have in front of us, we can first position ourselves rightly, seeking God. Then, simply worship the Lord for who he is. No matter the size or length of the battle, we will, in life and in death, "stand firm and see the deliverance the LORD will give" (v. 17 NIV). —Linda R. Rubingh
As you pray, berakah! the Lord for the splendor of his holiness.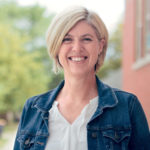 Linda R. Rubingh is a pastor, therapist, and writer with a passion for mission. She is the co-founder with her husband, Trevor, of New City Kids, and is completing her first children's book, I Love to Tell the Story: Stories of Meeting Jesus from Every Nation, Tribe and Tongue. Linda is a New Jersey native but now lives in Grand Rapids, Michigan with Trevor, their two children, and an overactive Siberian Husky.