Read: Romans 8:18-30
All things work together for good . . . (v. 28)
The question "How can a good God allow so much suffering?" prevents many from receiving Jesus. In my pastoral experience, however, the biblical view of suffering is the only explanation because it offers an origin, an end, and a cure. Suffering originated when Adam and Eve's rebellion brought a curse (Gen. 3:17) and subjected the creation to futility and corruption, causing it to groan as though in pains of childbirth (Rom. 8:20-22). Everyone experiences varying degrees of pain, suffering, and ultimately death.
Suffering ends when Christ returns: "'There will be no more death' or mourning or crying or pain, for the old order of things has passed away" (Rev. 21:4 NIV). Because of this, Paul argued that our present sufferings "are not worth comparing with the glory that is to be revealed to us" (Rom. 8:18).
Suffering's cure is Jesus. When we receive salvation in his name, we are adopted as children of God (v. 15) and the Holy Spirit dwells in us. This same Spirit intercedes before God on our behalf with "groanings too deep for words" (v. 26). We are not alone. We can therefore have confidence that in God "all things work together for good" (v. 28).
English poet William Cowper wrestled much of his life with despair. Romans 8 helped him, and he wrote this verse to encourage those who suffer:
His purposes will ripen fast,
Unfolding ev'ry hour;
The bud may have a bitter taste,
But sweet will be the flow'r.
—Jon Opgenorth
As you pray, ask the Holy Spirit to intercede for you.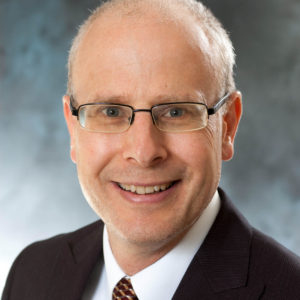 Rev. Jon Opgenorth serves as president of Words of Hope. Previously, he served for 18 years as senior pastor at Trinity Reformed Church in Orange City, Iowa. In preparation for ministry, he received a BA in Religion from Northwestern College, and an MDiv from Fuller Theological Seminary.