Read: Romans 5:12-21
Grace abounded all the more. (v. 20)
If reading about the spread of Adam's sin feels a bit like a bad virus circling the globe, you're not far off. It's actually worse. No mask or any amount of handwashing can prevent you from getting it. Sin does not enter us from the outside. We are born with it. Every human being descended from Adam is born under the reign of death (v. 17) and stands condemned before God (v. 18).
We cannot prevent being born with the sin disease, but there is a cure: Jesus Christ. In this passage, Adam's act of sin and Christ's act of obedience are contrasted five times. Adam's act brought death and condemnation; Christ's act brings gifts of justification (v. 16) and righteousness (v. 17). Because of Jesus' death our sin is paid in full (justified) and we are reconciled to God (made righteous).
And this work of Jesus does not merely equal out to the effects of sin. Far from it! Three times Paul uses the word "abounded" or "abundance" (vv. 15, 17, 20) to describe how much better Jesus' grace compares to Adam's sin. The Greek word for abundance implies "surplus." God's grace exceeds whatever condition sin brought. The third time (v. 20) he in effect adds "uber-" as a prefix. The grace of God in Jesus is not just abundant, it is uberabundant! It reminds me of the line in an old hymn, "Grace that is greater than all our sin!" Oh that knowledge of God's grace would fill the earth completely! —Jon Opgenorth
As you pray, thank God for the uberabundance of grace in Jesus.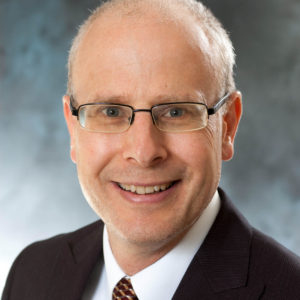 Rev. Jon Opgenorth serves as president of Words of Hope. Previously, he served for 18 years as senior pastor at Trinity Reformed Church in Orange City, Iowa. In preparation for ministry, he received a BA in Religion from Northwestern College, and an MDiv from Fuller Theological Seminary.