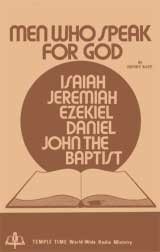 The whole message of the Bible can be summed up in three basic words: God has spoken. From the first chapters of Genesis to the close of Revelation God continually speaks to His people. The writer of Hebrews testifies to "those who spoke for God" people we usually call prophets: "In many and various ways God spoke of old to our fathers by the prophets; but in these last days he has spoken to us by a Son." (Hebrews 1:1-2)
Who are these prophets – these men who spoke for God? And is it possible that the message they spoke over 2,000 years ago can have any relevance for us today?
This book is out of print.