Read: Psalm 107:1-3
Let the redeemed of the Lord say so. (v. 2)
Harvest season brings prayers of thanksgiving. These prayers often focus on the what of thanksgiving: harvest, health, family, etc. Psalm 107 affirms the what but emphasizes the who of thanksgiving. Who were those called to "give thanks to the Lord" (v. 1)? They were "the redeemed of the Lord" (v. 2). The redeemed of Psalm 107 came from all kinds of trouble, but they had two things in common: "They cried to the Lord in their trouble, and he delivered them from their distress" (vv. 6, 13, 19, 28).
What does it mean to be "redeemed"? The Hebrew concept first appeared with God redeeming Israel from slavery in Egypt. "You shall remember that you were a slave in the land of Egypt, and the Lord your God redeemed you" (Deut. 15:15). Redemption means that a price was paid for freedom. The blood of the Passover lamb spread on the doorframe allowed the plague of death to pass over their homes and set them free (Exod. 12:13). Paul connected this to Jesus in Galatians 3:13: "Christ redeemed us from the curse . . . 'Cursed is everyone who is hanged on a tree.' "
We are slaves bound by sin and cannot pay for our redemption. Only Jesus, God's perfect Son, could do that. And he did! "For God so loved the world, that he gave his only Son, that whoever believes in him should not perish but have eternal life" (John 3:16). —Jon Opgenorth
As you pray, give thanks to the Lord, for he is good. Let the redeemed of the Lord say so!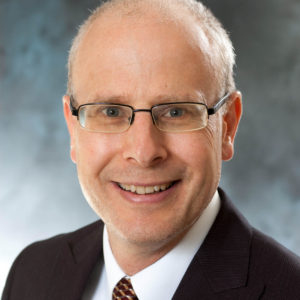 Rev. Jon Opgenorth serves as president of Words of Hope. Previously, he served for 18 years as senior pastor at Trinity Reformed Church in Orange City, Iowa. In preparation for ministry, he received a BA in Religion from Northwestern College, and an MDiv from Fuller Theological Seminary.