One of the many forms of media outreach that the Words of Hope team in India employs is music. Setting lyrics to music can touch hearts in ways that words alone do not. And in the region of Jammu and Kashmir, people have been requesting that our team create gospel music in their language of Dogri.
Last Christmas, the Dogri team partnered with the Christian Broadcasting Network (CBN) in India to record a Christmas tappa. Tappa is a semi-classical vocal style unique to India. It originated from folk music sung in the region.
CBN wanted to record a new and original Christmas tappa in Dogri to air on television. They partnered with the Words of Hope team for this. The Words of Hope Dogri team leader wrote the lyrics of the song, and our producer, who is musically gifted, composed the music for the tappa and performed for the video recording.
The Words of Hope team learned new video skills from the CBN team during the process of recording the music video. The goal now is to continue recording similar videos in the future, as this one has received good feedback.
Local churches are singing the songs produced by the Words of Hope team for times of praise and worship in their services. Individuals call in to tell us how the music is changing their lives as well. Aisha lives in a remote village. She cannot read or write, but enjoys listening to gospel music as it gives her hope in Jesus. Since listening, Aisha has shared the gospel with those around her and has brought four families to faith in Christ.
Listen to the Christmas Tappa here!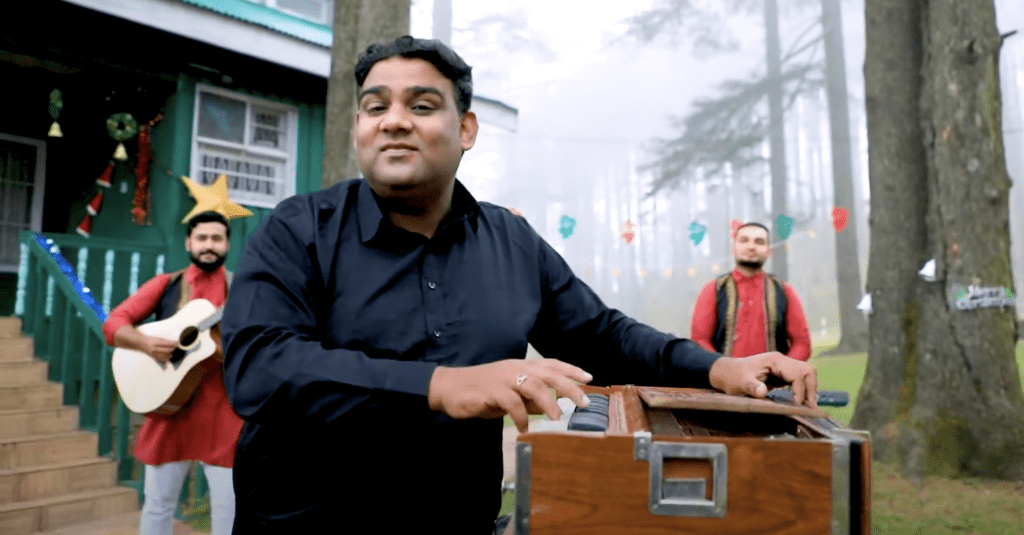 What is That Instrument?
The singers in the Dogri Tappa music video play tiny pianos with attached bellows called harmoniums. It is a type of miniature organ used in India and other South Asian countries. To play the harmonium, the musician must work the bellows with one hand to blow air through the reeds, while playing the keys with the other hand.
What are They Saying?
The team translated some of the song into English for us. It says:
Today, the moon (Jesus) has appeared in the manger
I see the bright face of the singers, their hearts heavy with delight
Angels celebrate happiness
and congratulate singing songs of joy
Beautiful star in the East led the wise men to Jesus
His glory is heavenly, savior and healer for sinners and sick
His love is amazing
Mary's beloved chose to die on the cross
Jesus is the glorious light
Sinners come to him, He is the living water