Read: Psalm 13
But I have trusted in your steadfast love; my heart shall rejoice in your salvation. (v. 5)
Do you ever feel that your sorrows have overtaken you, that all the forces on this earth are against you, and maybe God doesn't hear your cries or has forgotten you? At these times in my life, I sometimes feel like I only have my own thoughts counseling me in confusing divergent directions. Time stalls like a wet, dismal cold front. The opening verses of Psalm 13 describe this feeling.
When you and I are in this situation, we have a choice. We can choose to despair in our very real feelings of hopelessness. Or, as this psalm illustrates, we can defy our feelings and choose to trust in God's steadfast love and rejoice in his salvation. Trusting in God's steadfast love is acknowledging that God fully knows our circumstances and hasn't left or forgotten us. It's believing that whatever the outcome of our current situation, God will always give us the strength we need to persevere.
Rejoicing in God's salvation is thanking him for saving us and the many other things he's done for us. It's being grateful for how God is working in our current situation—even if we can't see it. It's thanking him for the future he's laid out for us as we embrace his will and pray that it be done. Rejoicing doesn't require us to feel happy—we can rejoice and trust in God's steadfast love in the midst of our deepest sorrows. —Donna Harold
As you pray, trust in God's steadfast love for you and rejoice in his salvation.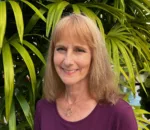 Donna M. Harold is retired from a career in accounting and consulting and lives in Tampa, Florida, with her husband and two cats. She serves as treasurer for her church, facilitates Bible studies, and enjoys the creativity of writing, mosaicking, and quilting.