Read: Isaiah 9:6-7
For to us a child is born, to us a son is given. (v. 6)
In 1615, Anthony van Dyck finished painting Adoration of the Shepherds. One version shows the shepherds kneeling in the stable, all straining forward to see the infant Jesus, snug in his mother's arms. And the shepherds' wives are present—a nice touch! One of the women is stretching out her hand to offer the holy child an egg. The wise men, we are told, gave fantastic, opulent gifts—gold, frankincense, and myrrh. But this woman gives a simple, practical, and very useful gift.
There are gifts we can give at Christmas that cost little or nothing, yet they can be very useful, and profoundly meaningful. I'm thinking about things like the gift of encouragement (1 Thess. 5:11). And then there's the gift of prayer. In my last church, a group of people met early on Sunday mornings to pray for me, their pastor. That meant the world to me.
Perhaps most important, we can give the gift of ourselves, our presence. The irony of the Christmas season is that we get so busy that we have little time for the people in our lives. This Christmas, don't just give presents, give presence. That's what Christmas is all about: God giving the gift of himself. God gives us his presence, in the form of a child, born in a manger. "To us a child is born, to us a son is given." —Lou Lotz
Today's Activity: Give the gift of your presence to a friend, family member, or someone at church. Take time to listen, play, or do something together.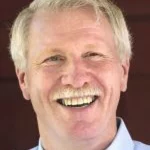 Rev. Lou Lotz is a recently retired Reformed Church pastor. Lou and his wife Mary Jean live in Hudsonville, Michigan.