Read: Psalm 86:8-13
Teach me your way, Lord, that I may rely on your faithfulness. (v. 11 NIV)
When I dwell on this passage, I never fail to be enriched. It begins with praise. "Among the gods there is none like you, Lord; no deeds can compare with yours" (v. 8 NIV). Our God is unique, who else can do the things he does?
Next is prophecy. In a world where many nations do not now bow before him, this word of promise cheers me greatly. All the nations will come. All will bow. All shall yet glorify God's name. I find here a powerful incentive for prayer. I say to God as King David once put it about God's promise to him: "Do as you promised" (2 Sam. 7:25 NIV).
Now there comes a personal petition, which I love to share. It calls for a heart-miracle that stirs longing: "Teach me your way, Lord, that I may rely on your faithfulness" (Ps. 86:11 NIV). That concern in itself is greatly to be praised. But the last part of the verse unveils a priceless treasure: "Give me an undivided heart, that I may fear your name." Could there be anything more deeply satisfying to experience than wholeheartedness in revering God's name?
Someone has said that this seems almost unattainable for Americans because of two major traits of ours: affluence and distractedness. We have so much and are pulled in so many directions that a centered, sustained passion for God and his kingdom seems rare. —Bill Brownson
As you pray, ask God to give you an undivided heart in all your worship.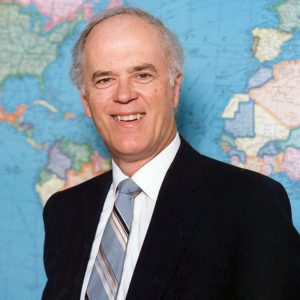 Dr. William C. Brownson was the President Emeritus of Words of Hope. Dr. Brownson served Reformed churches in Lodi, New Jersey, and Chicago, Illinois. In 1964 he was appointed Professor of Preaching at Western Theological Seminary, a position he occupied for ten years before serving at Words of Hope. In addition to a widespread speaking ministry in churches, on university campuses and at conferences, Dr. Brownson wrote extensively for the Church Herald, other Christian periodicals, and authored many books. Dr. Brownson died April 1, 2022.