Read: Luke 11:1-4
Lord, teach us to pray, just as John taught his disciples. (v. 1 NIV)
For years I have looked on these opening verses in Luke 11 as the fullest and richest in all the Bible on the life of prayer. They start with a word about Jesus himself at prayer. He prayed prodigiously—early in the morning, sometimes all through the night, usually alone for long hours, but sometimes as observed by his disciples. They saw prayer as a driving force in his life, the inner secret of his extraordinary poise and power. They yearned to learn from him. On this day, one of them made a request.
I think this appeal must have gladdened Jesus' heart. They wanted to grow in prayer. Perhaps he was saying to himself excitedly, "I thought they'd never ask!" For it seems he was ready right then to begin his instruction. "When you pray, say: 'Father'" (v. 2 NIV). There is lesson 1. The most vitally important thing about prayer is the one to whom we pray. And Jesus, more than anyone else in the history of the world, has revealed to us God's father-heart.
As you think about your life at prayer, my dear friends, always begin there, with trust in God's character, mercy, and faithfulness. All the people I know who pray much and pray well are those who approach the Father with confidence, freedom, and delight. They know that in Christ they are his well-loved children. I hope you will find it helpful, as I have, to pray this marvelous prayer every day. —Bill Brownson
As you pray, thank God for his fatherly love.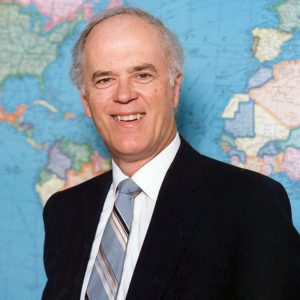 Dr. William C. Brownson was the President Emeritus of Words of Hope. Dr. Brownson served Reformed churches in Lodi, New Jersey, and Chicago, Illinois. In 1964 he was appointed Professor of Preaching at Western Theological Seminary, a position he occupied for ten years before serving at Words of Hope. In addition to a widespread speaking ministry in churches, on university campuses and at conferences, Dr. Brownson wrote extensively for the Church Herald, other Christian periodicals, and authored many books. Dr. Brownson died April 1, 2022.