Read: Matthew 26:47-52
Faithful are the wounds of a friend; profuse are the kisses of an enemy. (Prov. 27:6)
As an illustration of the wisdom of this proverb, consider the interactions between Jesus, Judas, and Peter on the night before the crucifixion. In the upper room, Jesus had told Peter bluntly that Satan would sift him like wheat (Luke 22:31). Ouch! When Peter protested that he would willingly die for him, Jesus cut him short. "I tell you, Peter, the rooster will not crow this day, until you deny three times that you know me" (v. 34). Then in Gethsemane Judas approached Jesus with all the apparent devotion of a true disciple. "And he came up to Jesus at once and said, 'Greetings, Rabbi!' And he kissed him" (Matt. 26:49). "Friend," Jesus replied, "do what you came to do" (v. 50).
I wonder about that "Friend." Maybe Jesus was speaking ironically; some friend Judas turned out to be! And Jesus knew all about what Judas was up to. But could it be that he addressed Judas with real sorrow in his voice, for the friendship that might have been? I don't know which it was, but I do know that it's important to be able to distinguish our friends from our enemies.
A true friend may tell us—in the right time and way—something about ourselves that wounds us; the truth often hurts. An enemy may offer profuse verbal kisses. The difference between them isn't in what they say (criticism vs. flattery), it's in the motive behind what they say. The friend hurts in order to help; the enemy flatters in order to betray. —David Bast
As you pray, ask for the humility to receive criticism graciously.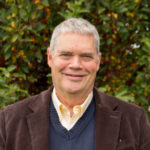 Rev. Dave Bast retired as the President and Broadcast Minister of Words of Hope in January 2017, after 23 years with the ministry. Prior to his ministry and work at Words of Hope, Dave served as a pastor for 18 years in congregations in the Reformed Church in America. He is the author of several devotional books. A graduate of Hope College and Western Theological Seminary, he has also studied at both the Fuller and Calvin seminaries. Dave and his wife, Betty Jo, have four children and four grandchildren. Dave enjoys reading, growing tomatoes, and avidly follows the Detroit Tigers.