Read: John 20:19-23; Revelation 1:10
When it was evening on that day, the first day of the week, and the doors of the house where the disciples had met were locked for fear of the Jews, Jesus came and stood among them and said, "Peace be with you." (John 20:19 NRSV)
Any time a seemingly unnecessary detail is included in a Gospel narrative, it ought to make you ask, "Why is that there?" Beyond the obvious (simply stating that it was the evening on "that day," i.e., Easter) there seems no need for John to include this detail: "the first day of the week." So, why is that there?
John is pointing at a decision the early Christians made after Jesus' death and resurrection. The decision was to meet for worship on Sunday rather than Saturday. Saturday had always been the Sabbath day. But Christians worship and rest on Sunday, the "Lord's Day." There is precedent for our gathering on the first day of the week.
Every time we gather in worship on Sunday morning we retell the story, simply by our gathering, that Jesus Christ has been raised from the dead. Whatever else the sermon is about, whatever else the songs we sing or the prayers we pray seem to suggest, we gather in light of the resurrection. The rhythm of our lives is built around the resurrection of Jesus Christ. Every Sunday is another opportunity to celebrate and proclaim that Christ has been raised from the dead and has defeated the power of sin and death in our lives and in the world.
He is risen! He is risen indeed! —Jon Brown
As you pray, celebrate the resurrection again.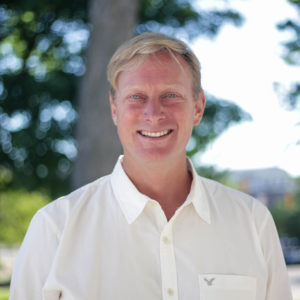 Jon Brown is the lead pastor of Pillar Church in Holland, MI. With his beloved wife, Kristyn, Jon is the proud father of 4 daughters: Lydia, Tabitha, Miriah, and Ava. He has been the keynote speaker at a number of events including, The Nicaraguan Pastors Conference of the Moravian Church, The Cascades Family Bible Camp, and many events at Hope College. He is a regular writer for the Words of Hope devotionals as well. Urging the church forward to participate in the mission of Christ in the world is where Jon finds the deepest joy and greatest sense of purpose.