Read: John 19:1-37
Pilate also had an inscription written and put on the cross. It read, "Jesus of Nazareth, the King of the Jews." (v. 19 NRSV)
Holy Week began with Jesus' triumphal entry into Jerusalem riding on a donkey's colt, signifying that Israel's king was arriving. Now when Friday turns violent, Jesus is proclaimed as king again, but this time sarcastically by the soldiers ("Hail, King of the Jews!" [v. 3 NRSV]) and stubbornly by Pilate ("What I have written I have written" [v. 22 NRSV].) Though sarcastic or stubborn, their words were truer than they knew.
The inscription written above Christ on the cross reminds me of Psalm 2. Listen to this part of it in light of Good Friday: "Why do the nations conspire, and the peoples plot in vain? The kings of the earth set themselves, and the rulers take counsel together, against the Lord and his anointed, saying, "Let us burst their bonds asunder, and cast their cords from us." He who sits in the heavens laughs; the Lord has them in derision. Then he will speak to them in his wrath, and terrify them in his fury, saying, 'I have set my king on Zion, my holy hill'" (Psalm 2:1-2, 4-6 NRSV).
Here is the wonderful irony of Good Friday: while Roman soldiers put Jesus to death at the insistence of Jewish rulers, God is inaugurating Christ as King. Not in the way anyone expected, but rather in God's wisdom—the way it was meant to be: "I have set my king on Zion, my holy hill." —Jon Brown
As you pray, worship the King who was enthroned upon a cross.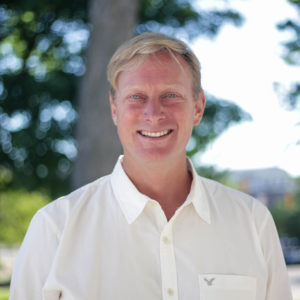 Jon Brown is the lead pastor of Pillar Church in Holland, MI. With his beloved wife, Kristyn, Jon is the proud father of 4 daughters: Lydia, Tabitha, Miriah, and Ava. He has been the keynote speaker at a number of events including, The Nicaraguan Pastors Conference of the Moravian Church, The Cascades Family Bible Camp, and many events at Hope College. He is a regular writer for the Words of Hope devotionals as well. Urging the church forward to participate in the mission of Christ in the world is where Jon finds the deepest joy and greatest sense of purpose.