Read: John 4:7-30
Come, see a man who told me all that I ever did. Can this be the Christ? (v. 29)
"They say she can't keep a husband."
"They say she's not even married to the man she's got now."
"Best to stay far away from that one."
The woman at the well was not, shall we say, well-connected in her community. There was a reason she was alone at the well in the middle of the day. There was a reason why the disciples marveled when they saw Jesus talking to her. Her reputation preceded her, wherever she went. Her wilderness was one of isolation—of a reputation that put her in the middle of nowhere, no matter where she was.
Jesus, however, saw past all that. He chose not only to talk with her, but to ask her for something he genuinely needed that she could offer, and then stuck around long enough to get to know her. He looked past her social standing and her situation, and saw the soul beneath it all. This woman experienced healing at the well because Jesus saw her in spite of everything she ever did, and then invited her into something new and better. This woman, seen and offered fullness of life, was then empowered to go to her whole community, telling people what Jesus did for her.
When Jesus saw the woman from Samaria, she found a way out of her wilderness. Like this woman, let Jesus see you today, your entire history, your whole heart. And open your eyes to see others as Jesus does. —Amy Curran
As you pray, ask God to give you the eyes to see those around you.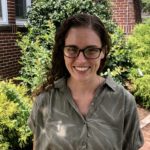 Amy Curran is a gardener, a reader, a runner, and an avid coffee drinker. She lives in Durham, North Carolina, where she runs a community garden and a farm-to-table café for Reality Ministries.