Read: John 11:17-44
Lord, if you had been here, my brother would not have died. (v. 32)
Again in this passage, Jesus was the one journeying—this time to the home of Mary and Martha. These women were in a wilderness of dashed hopes, as their Rabbi had failed to show up in time to heal their brother before he died. They waited for Jesus to come as their brother's condition got worse and worse. They waited for him to come while Lazarus took his final, labored breaths. They waited for him while they began preparing his body for burial, and then the mourning process. It was three days since their brother died, and still, they waited for Jesus to arrive.
By the time Jesus did arrive, Mary and Martha were ready to confront him: "Lord, if you had been here . . ." They knew that Jesus would have had the power to heal Lazarus before the pangs of death came. The women didn't understand why Jesus delayed; they didn't realize Jesus intentionally came too late, anticipating that he would raise Lazarus from the dead. However, before he did anything else, he first stopped and wept. Mary and Martha were in the wilderness of grief for their brother, and Jesus entered the depth of that grief with them (and us).
We don't know why Jesus doesn't make everything better before we feel that level of pain. However, we know that we have a God who is with us in the pain, and doesn't shield himself from it. —Amy Curran
As you pray, thank God for being with you, even in your most painful moments.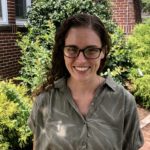 Amy Curran is a gardener, a reader, a runner, and an avid coffee drinker. She lives in Durham, North Carolina, where she runs a community garden and a farm-to-table café for Reality Ministries.