Read: Philippians 4:10-20
I can do all things through him who strengthens me. (v. 13)
Sometimes I am not at all content with life. I find myself thinking that if only I didn't have a disability, life would be much better. If I were able to walk, talk, drive a car, sign my name, and get a job, then, I think, life would be easier.
When I don't feel very content with life, I find it helps to go to God's Word for comfort. In 2 Corinthians 12:9, God says that his grace is sufficient for me. Do you know what? It is!
I find that God's promises help me to overcome my discontentment with life. Philippians 1:6 promises, "And I am sure of this, that he who began a good work in you will bring it to completion at the day of Jesus Christ." Romans 8:28 says, "And we know that for those who love God all things work together for good, for those who are called according to his purpose." In Isaiah 41:10, God tells us, "fear not, for I am with you; be not dismayed, for I am your God; I will strengthen you, I will help you, I will uphold you with my righteous right hand."
How about you? Do you ever get discontented with life? If you do, try what I do—look up several of God's promises. Then we can see that God is in control. When we believe his promises, he will help us to be content, whatever our circumstances. —Steven Laman
As you pray, ask God to help you find contentment, and trust in God's promises.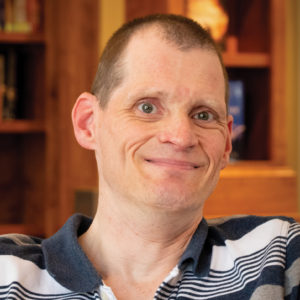 Steven Laman is a writer and public speaker who has lived with cerebral palsy since his birth in 1970. Steven is a prolific devotional writer for Words of Hope, and the author of two other books: Strength in Weakness and My Grace Is Sufficient. He also volunteers as a teacher's aide. He lives with his parents in Iowa.