Read: Matthew 6:5-15
But when you pray, go into your room and shut the door and pray to your Father who is in secret. And your Father who sees in secret will reward you. (v. 6)
The most difficult problem I have because of my disability is making myself understood. I use several ways to communicate. First, I use an electronic speech device. I code in the words that I want to say, and it turns it into robotic speech. Second, I use other people who can understand me to interpret for me. I tell them what I want to say, and they communicate it to the person to whom I am talking. The last way is that I spell out words, with my hand, on a table or another surface.
These ways of communicating are slow and tedious. I cannot say something quickly to a friend. It takes time for him to listen and figure out what I am saying. Sometimes people don't have that kind of time, and I understand that, but it is hard. Communication is always frustrating for me, but there is someone who can understand me perfectly.
With God there are no communication gaps, no delays, and no confusion. He can understand me perfectly. He even knows what I have to say before I say it. When I don't know what to say, the Holy Spirit intercedes for me.
Do you ever have a problem talking to people? Do you have trouble putting feelings into words? There is someone who understands you completely—God. —Steven Laman
As you pray, share your joys, concerns, and praise openly with the Lord.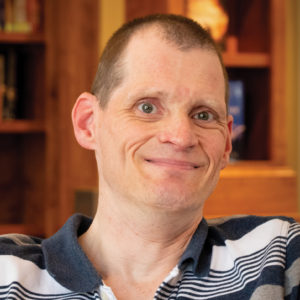 Steven Laman is a writer and public speaker who has lived with cerebral palsy since his birth in 1970. Steven is a prolific devotional writer for Words of Hope, and the author of two other books: Strength in Weakness and My Grace Is Sufficient. He also volunteers as a teacher's aide. He lives with his parents in Iowa.