Read: 1 Samuel 1:1-11
She was deeply distressed and prayed to the LORD and wept bitterly. (v. 10)
The best stories begin with someone in a serious predicament. Important dreams or plans have fallen to pieces. Someone gets fired from a job, jilted by a love interest, or goes bankrupt.
First Samuel begins, almost classically, with a predicament. We meet childless Hannah, despairing and profoundly brokenhearted. She wept and refused to eat the rich, double portion offered by her doting husband. In addition to her deep sadness, Hannah was plagued by a second wife who mocked her, and a husband who still expected full affection from her. But like so many women before and since, Hannah's infertility was a burden she could scarcely bear. She longed to be pregnant. In desperation, Hannah took her aching, weary soul to the temple to pray before God, and there her pitiful cries turned to a promise. If only God would fill her empty womb with a child, she vowed that the child would be given over fully to the Lord.
When you encounter a predicament in your storyline, and are nearly destroyed by weeping and longing, the only true aid is God. God responds to your deep longings. He will fill your emptiness. When your prayer is answered, will you then take your fulfillment and wholeness and offer it freely back to the Lord?
As you pray, tell God about your emptiness and expect God to fill it completely.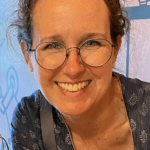 Katy Sundararajan is a specialized minister in the Reformed Church in America. She has garnered her pastoral perspectives from posts as a college chaplain, a missionary, an international student advisor, and a higher education and leadership ministries program coordinator.