Read: Matthew 10:16-33
The fear of man lays a snare, but whoever trusts in the LORD is safe. (Prov. 29:25)
In one of our early devotionals in this series, I mentioned that we don't seem to pay much attention to the fear of the Lord today. But there's another kind of fear we may worry about far too much—"the fear of man." This isn't the reasonable fear of what harmful people might do to us; it's the excessive fear of what critical people might say or think about us. The fear of man is worrying about our social standing. It can lead us to be embarrassed about being identified as a Christian at work or school. It can shame us into conforming to the world's values and behavior or make us keep silent when speaking the truth is unpopular.
When a gang came to arrest Jesus in the garden of Gethsemane, Peter pulled out a sword and fought, ready to make good his boast that he would die for Jesus. But just a few hours later, a serving girl's simple question caused him to deny all knowledge of his Lord. As Christians we probably won't be asked to lay down our lives for Jesus, but we will likely be asked to risk social ridicule and ostracism for following him.
The antidote to the fear of man is the fear of God, the only one who decides eternal issues (v. 28). So let's put things in perspective: "The LORD is on my side; I will not fear. What can man do to me?" (Ps. 118:6). —David Bast
As you pray, ask for the grace to risk embarrassment for your faith.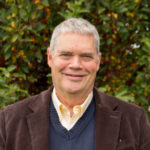 Rev. Dave Bast retired as the President and Broadcast Minister of Words of Hope in January 2017, after 23 years with the ministry. Prior to his ministry and work at Words of Hope, Dave served as a pastor for 18 years in congregations in the Reformed Church in America. He is the author of several devotional books. A graduate of Hope College and Western Theological Seminary, he has also studied at both the Fuller and Calvin seminaries. Dave and his wife, Betty Jo, have four children and four grandchildren. Dave enjoys reading, growing tomatoes, and avidly follows the Detroit Tigers.