Read: Isaiah 55:1-13
[S]o shall my word be that goes out from my mouth; it shall not return to me empty, but it shall accomplish that which I purpose, and shall succeed in the thing for which I sent it. (v. 11)
Isaiah 40-66 gives God's promise and encouragement to the exiles in Babylon for their return to Jerusalem as forgiven people to begin life anew. This is also a message to all who have received forgiveness and life through Jesus, and who are living as his followers, with confidence of reaching their eternal home with God. Key words for the journey home are: come, listen, see and seek.
Come. No money is needed. Eat and drink what has enduring value: truth, beauty, goodness, love, joy, peace, all rooted in Christ. Listen, so that your soul may live in a covenant of love with God. See what God is doing in the world and celebrate as the gospel is embraced in many nations. "Seek the Lord while he may be found, call upon him while he is near." (v. 6) We face many distractions and temptations, but God's invitation freely pardons.
Two final insights: God's ways are higher than our ways (v. 9), and God's word is reliable and he will achieve his purposes (v. 11). With these truths in our minds and hearts, we "will go out in joy and be led forth in peace" (v. 12) as we journey to our eternal home. —Gordon Van Wylen
As you pray, meditate and consider how you can come, listen, see and seek. Thank God for making a way back to him.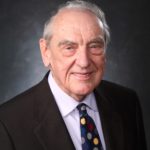 Gordon Van Wylen served as the Dean of the Engineering School at the University of Michigan, and was the President Emeritus of Hope College. Dr. Van Wylen died in 2020.