Read: Isaiah 37:1-26; 33-38
Do not be afraid because of the words that you have heard . . . (v. 6)
When news of this overwhelming threat reached Hezekiah, he did three things. He tore his clothes and wore sackcloth, thereby acknowledging this desperate situation; he went into the temple to meet God; he informed Isaiah of this matter and asked him to pray.
Isaiah gave Hezekiah a reassuring message from God, but then Hezekiah received a letter from the Assyrian king, seeking to undermine his confidence in God by reminding him of the invincible power of the Assyrians. In response, Hezekiah took decisive action. He went into the temple, spread the letter before God, and in a thoughtful prayer he acknowledged both the sovereign power of God and the temporal power of the Assyrians. He concluded with a clear, simple petition of faith: "O LORD our God, save us from his hand . . . " He also expressed the ultimate purpose of his prayer: " . . . that all the kingdoms of the earth may know that you alone are the LORD." (v. 20)
The balance of the chapter is a beautiful poem from the pen of Isaiah and a simple statement of how Hezekiah's prayer was answered, with the complete defeat of Sennacherib just as God had said it would happen. It was not easy for Hezekiah to rely completely on God, and it is not easy for us either. However, trusting in God's promises is the only way to a full life. —Gordon Van Wylen
As you pray, rest in the assurance of God's love and faithfulness in all circumstances of your life.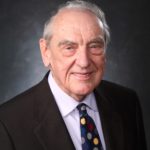 Gordon Van Wylen served as the Dean of the Engineering School at the University of Michigan, and was the President Emeritus of Hope College. Dr. Van Wylen died in 2020.