I have a confession: when people say that they hear a calling from God, I have no idea what they are talking about. I am not naturally a jealous person, but when I hear people speak about having this kind of relationship with God, I feel a little envy. I want to be so attuned to the heart of God that I sense the movement of the Spirit in all things. I desire a sensitivity to the spiritual forces at play in the world. I long to be confident of my decisions, even if they seem an ill calculation by the standards of the world. Even if it was just a soft feeling, like a tingle on the back of my neck that told me I was doing his will, I think that would be enough.
But my reality is not like that.
I have ideas and dreams and plans, but I'm not sure which ones are from God and which are my own. I read the Bible, but even after years of study there are parts that confuse and befuddle me. I pray, but it feels like I'm repeatedly shouting into a canyon, unsure whether there is a response or only my own voice echoing back to me.
The way I deal with this is that I have learned to trust other people.
The truth is that God does speak to me, but not just to me. I hear God in the Christian communities around me: friends, family, co-workers, and my church small group. I test my ideas and passions through the gauntlet of other Christians, not to off-load the work of prayer and discernment, but because this is my process of prayer and discernment. And the beauty of this is that I do not have to rely only on those people around me. There is a rich tradition, thousands of years long, upon which I can draw inspiration and guidance.
If you're like me and you sometimes feel that God is silent, I suggest getting together with other Christians. It could be something formal like a church group or Bible study. But it doesn't have to be. It could be as simple as a trust-worthy friend who can speak truth into our lives. In this way, we bind our hearts together as we work to bind them to the heart of Christ. And you may be surprised to discover that God actually has a lot to say to you.
At Words of Hope, we see the power of community through the work of believers in our fields. In places like Iran, believers can't meet safely in person. Through Facebook and YouTube, our Persian ministry leaders can connect with believers in the country to encourage them and guide them to grow in their faith. If you are able, and you know the power of meeting with other believers, consider a gift to support the Persian ministry, and all of our ministry partners, today.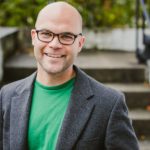 Adam Navis (M.Div., D.Min.) is passionate about the power of stories to transform lives. Whether he is writing, podcasting, or editing a video, he tries to use stories to entertain, educate, and evoke thoughtful reflection. He lives in Michigan and enjoys spending time outside with family and friends.