Read: Isaiah 9:1-7
But there will be no gloom for her who was in anguish. (v. 1)
Zebulon and Naphtali was the northern region of Israel, called Galilee in Jesus' day. This area knew great anguish when invaded and humbled by Assyria. But Isaiah foresaw the region honored and filled with joy when a great light dawned on them. Christians believe that this light refers to Jesus, whose ministry was centered in Galilee.
This passage envisions great celebration and rejoicing as the "great light" shines on a people formerly mired in darkness. This dawning light becomes evident in three ways, and we need only look to the Gospels to see how Jesus takes these up.
First, the yoke of sin that burdened the people is lifted (v. 4). Jesus said, "Take my yoke upon you and learn from me . . . and you will find rest for your soul" (Matt. 11:29). Second, there is peace, symbolized by burning the equipment of war (v. 5). Jesus said, "Peace I leave with you; my peace I give you . . . Do not be afraid" (John 14:27). And finally, the community has a new leader, Jesus the Messiah, born as a child in Bethlehem, the eternal Son of God. What a leader he is: "Wonderful Counselor, Mighty God, Everlasting Father, Prince of Peace." His kingdom is eternal. Truly Jesus, the Christ, is the Light of the World. —Gordon Van Wylen
As you pray, worship Jesus, the Light of the World. Ask him to help you receive the gentleness of his yoke, celebrate the joy of his peace, and submit to his lordship.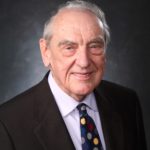 Gordon Van Wylen served as the Dean of the Engineering School at the University of Michigan, and was the President Emeritus of Hope College. Dr. Van Wylen died in 2020.