Read: Isaiah 8:1-15
But the LORD of hosts, him you shall honor as holy. Let him be your fear, and let him be your dread. (v. 13)
As Isaiah continues to bring God's message in the tense political situation under Ahaz, he writes a strange message on a large placard: "Quick to the plunder; swift to the spoil." This is a warning to Judah: Do not put your trust in Assyria during your conflict with Aram and Israel for Assyria will be quick and powerful in its conquest of Aram and Israel and eventually Judah as well. To demonstrate his conviction, Isaiah gives his son the name meaning "quick to the plunder, swift to the spoil" (v. 3, NIV). Isaiah's appeal is to trust God and focus on spiritual renewal in Judah.
Then Isaiah uses a striking analogy to depict the danger of depending on Assyria. He likens Judah's rejection of God to rejecting the gently flowing water of the Shiloah spring in Jerusalem. Therefore, God will cause the mighty floodwaters of the Euphrates River, a symbol of Assyria, to overflow its banks and sweep over Judah. As we will read later, this actually happened under King Hezekiah. Again, Isaiah uses the word Immanuel, reflecting that "God with us" is our only hope. As our reading concludes God speaks directly to Isaiah encouraging him to be strong and faithful in his ministry. —Gordon Van Wylen
As you pray, ask God to help you stay faithful to his call, growing as a faithful and discerning witness.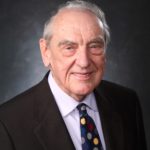 Gordon Van Wylen served as the Dean of the Engineering School at the University of Michigan, and was the President Emeritus of Hope College. Dr. Van Wylen died in 2020.