Read: Isaiah 1:21-28
Everyone loves a bribe and runs after gifts. They do not bring justice to the fatherless, and the widow's cause does not come to them. (v. 23)
With intense poetry and dramatic metaphor Isaiah describes the tragic consequences when God's people, particularly leaders, ignore God's standard for righteous living and compassion. What a deplorable, hopeless society! The most remarkable feature is the dramatic change that takes place as God's vision for his people becomes a reality. The end result: Jerusalem is now "the city of righteousness, the faithful city" (v. 26). How could such a radical change take place?
This transforming work begins when God takes the initiative. The first move is God's action to remove evil: "I will turn my hand against you; I will thoroughly purge away your dross and remove all your impurities." (v. 25, NIV) Then the positive steps begin as God places responsible judges and counselors in society. The work of these persons permeates the community so that it is called "the city of righteousness" and "Zion will be delivered with justice." (v. 27) This work is painful, but necessary for everyone in the community.
As you consider your community, how is God calling you or your church to transforming some aspect? What painful, but necessary work must happen in your life so that this can happen? —Gordon Van Wylen
As you pray, invite God to guide you and prayerfully consider his calling in your life.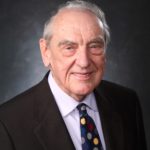 Gordon Van Wylen served as the Dean of the Engineering School at the University of Michigan, and was the President Emeritus of Hope College. Dr. Van Wylen died in 2020.