Read: Ephesians 3:14-21
Now to him who is able to do far more abundantly than all that we ask or think, according to the power at work within us . . . (v. 20)
"I'm so tired," she said. I could see the dark circles around her eyes, hear the weariness in her voice. She continued, "I don't know that I have the strength to make it through." Maybe you feel the same way. Where does the strength to be resilient come from? In today's Scripture, Paul gives us an answer in a prayer for God's power to be experienced in our lives.
Power is a main theme in Ephesians. Ephesus was a Roman province that was a matrix of political, religious, and economic power. But God's power is radically different from the world's notion of power. The lust for worldly power is about coercion and violence, manipulation and dominance. It divides and tears down and pushes others aside. But God's power heals and unites, builds up and defends the most vulnerable. It is expressed in humility, sacrificial love, and service.
Paul prays that God's strong and gentle power would strengthen us inwardly and keep us grounded and rooted in love. And that it would fill us with all the fullness of God so that we can find the strength to make it through. This truly is a power that can do abundantly far more than anything we can ask or imagine! Are you looking to your own strength today or are you relying on God's power? —Brian Keepers
As you pray, ask God to help you rely on his power to strengthen you to love and serve others.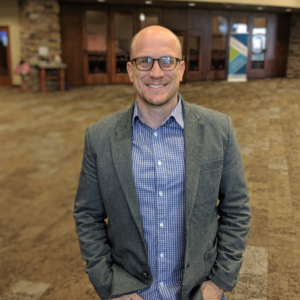 The Rev. Dr. Brian Keepers is the lead pastor of Trinity Reformed Church in Orange City, IA. He has served as an ordained pastor in the Reformed Church in America for twenty years, and received his D.Min from Western Theological Seminary (Holland, MI). Brian is married and has two daughters and one granddaughter.