Read: Ephesians 2:1-10
For by grace you have been saved through faith. And this is not your own doing . . . (vv. 8-9)
When my oldest daughter was learning to ride a bicycle, I'd jog behind her, holding on to the bike seat until she'd call out, "Okay, Dad, let go! I can do it myself!" And she'd go pedalling on her own.
We may be tempted to think about God's grace in a similar way. We acknowledge that we need God's grace out of the starting blocks, to save us from our sin and restore us to right relationship with God. But then once we hit our stride, we say to God, "Okay, let go! I can do it myself!" It then becomes all about our own effort and determination.
But that's not how grace works. The 16th-century pastor John Calvin taught the doctrine of "double grace." We are justified by grace through faith, said Calvin. But it's also grace that sanctifies us and makes us more like Jesus. It's grace from start to finish!
Paul would agree. This same amazing grace that saves us also sustains us and transforms us from the inside out. We are called to do good works, which God prepared beforehand to be our way of life, not in order to get God to save us. We do good works because God has already saved us—as an expression of gratitude. As hymnwriter John Newton put it, ". . . 'tis grace has brought me safe thus far, and grace will lead me home," across the finish line! —Brian Keepers
As you pray, ask God to sustain you with his grace and transform you more into the image of Jesus.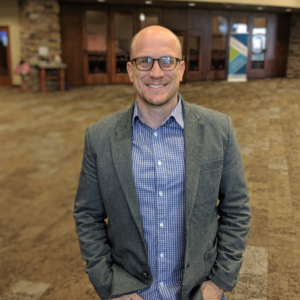 The Rev. Dr. Brian Keepers is the lead pastor of Trinity Reformed Church in Orange City, IA. He has served as an ordained pastor in the Reformed Church in America for twenty years, and received his D.Min from Western Theological Seminary (Holland, MI). Brian is married and has two daughters and one granddaughter.