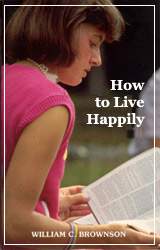 Ours is an age which insists on knowing "how." We are impatient with theories we can't practice and instructions we can't follow. If we're to do something, we want someone to show us a workable plan, to lead us, as we say, down a "plain path."
When it comes to knowing how to live, all of us share some of that ineptness. We greatly need both direction and inner strength. In Jesus Christ we can learn how to live – and live happily.
Dr. William C. Brownson is the President Emeritus of Words of Hope. Dr. Brownson has served Reformed churches in Lodi, New Jersey, and Chicago, Illinois. In 1964 he was appointed Professor of Preaching at Western Theological Seminary, a position he occupied for ten years before serving at Words of Hope. In addition to a widespread speaking ministry in churches, on university campuses and at conferences, Dr. Brownson has written extensively for the Church Herald, other Christian periodicals, and he has authored many books.