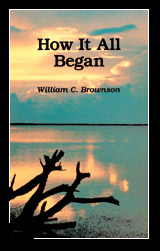 Someone once said that if we are to understand ourselves, "we need to know where we've been." Surely that is a critical issue in our time. Many struggle with understanding themselves, their relationship with the world and their relationship with God. Where can we look for answers?
Is there a deeper well from which to draw than the words of Genesis – the book of beginnings? Here we learn what we were, what we are, and what we're meant to be. Perhaps one of the best ways to discover our humanity is in a new look at this old book. Welcome to the search!
This book is out of print.