Read: Luke 1:26-38
Behold, I am the servant of the Lord; let it be to me according to your word. (v. 38)
From the moment her "let it be" left her lips, Mary walked a blessed yet lonely path. These words were a step into the wilderness of the unknown—the choosing of a life that would be far from what was expected of her. Soon after the angel left, Mary took a pilgrimage to visit her cousin Elizabeth, who was said to be miraculously pregnant as well. This time together with Elizabeth must have been deeply encouraging. However, upon her return, imagine the gossip, the ostracism, and perhaps even the cruelty of people in her neighborhood and her family who found this young woman only recently married and already pregnant. We now celebrate Mary as the ultimate example of submission to God's will, but during her lifetime she was misunderstood and disbelieved.
Choosing to follow God sometimes means being isolated. However, Mary was not alone. She was literally carrying within her the presence of God. And each day after her "let it be" encounter with the angel, her body made more and more room for the Lord to reside. She submitted to a difficult journey, but this journey was the work of welcoming Jesus. Mary's willingness to endure a wilderness of isolation meant that she was able to offer a new life to the world, a son who would bring about newness of life for the world. —Amy Curran
As you pray, ask God to help you submit to the work he wants to do in your life.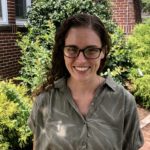 Amy Curran is a gardener, a reader, a runner, and an avid coffee drinker. She lives in Durham, North Carolina, where she runs a community garden and a farm-to-table café for Reality Ministries.