Read: Exodus 2:1-10; 15:20-21
Sing to the Lord, for he has triumphed gloriously . . . (15:21)
Miriam must have been the type of little girl who paid attention. We find her watching over her little brother as he floated away from her in a basket down the Nile. She watched and followed, and eventually witnessed the baby being drawn out of the water by servants of Pharaoh's daughter. By the end of the day, Miriam had ensured that Moses was safely with his birth family, who were officially commissioned to raise him until he no longer needed to nurse. Was all this part of an intricate plan, or did little Miriam think well on her feet? Either way, she played a big part in the rescue of her baby brother and (eventually) her people.
By the time she was grown, Miriam found herself at a different shore, making a hurried journey with her people through the waters. Perhaps she saw the resemblance between this journey and her baby brother's reed-and-pitch adventure so long ago. This, too, was a second chance at life. God was birthing her people into something new.
I have a feeling that Miriam did recognize this as something remarkable. She was, after all, the sort who paid attention. In fact, we know that she did mark it with a song, offering praise to God for this work done on behalf of a forgotten and oppressed people. —Amy Curran
As you pray, reflect on how God has freed and renewed you. Praise God for the new life you've been offered.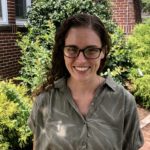 Amy Curran is a gardener, a reader, a runner, and an avid coffee drinker. She lives in Durham, North Carolina, where she runs a community garden and a farm-to-table café for Reality Ministries.