Read: Genesis 16:6-14
So she called the name of the Lord who spoke to her, "You are a God of seeing." (v. 13)
Nobody asked the handmaid. Hagar, Sarai's Egyptian slave, had no choices. She did not choose to cast her lot with Abram's growing band of wanderers, to have Abram's child, or to become the pawn that "made" God's promise come true. As far as power goes, this slave girl was at the bottom of the heap.
Hagar's lack of power made her especially vulnerable. Once she conceived, there was such enmity between her and Sarai that Abram finally told Sarai, "Do to her as you please" (v. 6). Sarai treated the pregnant Hagar so harshly that she ran away. This was a truly desperate situation if the wilderness felt like relative safety. It was there, in her utter desperation, that God showed up. We read that the angel of the Lord found Hagar in the wilderness and spoke to her, making promises to her similar to those made to Abram: "I will surely multiply your offspring" (v. 10).
Hagar, the powerless slave of Sarai, had an encounter with God in the wilderness more intimate even than Abram's encounters. It was Hagar, not Sarai or even Abram, who first gave a name for God (v. 13). Hagar had been found by the God who is present to the powerless, and joined the multitude of those who encounter God in their most desperate wilderness times. —Amy Curran
As you pray, consider a time when you felt that nobody was on your side. Give thanks to God for being a God who sees and is present to the powerless.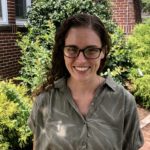 Amy Curran is a gardener, a reader, a runner, and an avid coffee drinker. She lives in Durham, North Carolina, where she runs a community garden and a farm-to-table café for Reality Ministries.