Read: Revelation 1:9; John 16:25-33
I, John, your brother and partner in the tribulation and the kingdom and the patient endurance that are in Jesus. (Rev. 1:9)
A key word in the book of Revelation is thlipsis, meaning distress, suffering, tribulation. John knew all about thlipsis, and so did the churches he was writing to; they were partners in it. He was on Patmos, a small rocky island off the coast of Turkey. He had been exiled there during the reign of the emperor Domitian (in the ad 90s) because of his faithful ministry of God's Word and his witness to Jesus. The last of the twelve apostles, John alone would die of natural causes, but he would likely die in prison.
There is no false advertising in the New Testament. The gospel promises are clear and repeated. Faith in Christ leads to long-term glory, but to short-term trouble. As someone once observed, those who kneel beneath the cross shouldn't be surprised if they get some blood on them.
Don't believe the gospel because you think it will make your life easy and happy. Believe it because it's true. Believe that Jesus really did come from God to give us eternal life. Believe he really did overcome the world, even as that world crucified him. Believe that when you suffer you really will have peace in him. "I have said these things to you, that in me you may have peace. In the world you will have tribulation. But take heart; I have overcome the world" (John 16:33). If we are partners in tribulation, let's also be partners in endurance. —David Bast
As you pray, meditate on the Lord's promises.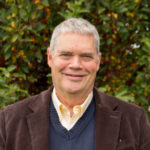 Rev. Dave Bast retired as the President and Broadcast Minister of Words of Hope in January 2017, after 23 years with the ministry. Prior to his ministry and work at Words of Hope, Dave served as a pastor for 18 years in congregations in the Reformed Church in America. He is the author of several devotional books. A graduate of Hope College and Western Theological Seminary, he has also studied at both the Fuller and Calvin seminaries. Dave and his wife, Betty Jo, have four children and four grandchildren. Dave enjoys reading, growing tomatoes, and avidly follows the Detroit Tigers.