Read: Psalm 92
The righteous flourish like the palm tree and grow like a cedar in Lebanon. (v. 12)
When was the last time you ate a date? What do you recall about the taste, smell, and texture? Do you know where that delicacy came from?
The palm tree mentioned in this psalm is the date palm, one of the most important trees in ancient Israel, for its fruit was high in sugar and very nutritious, its leaves were used for roofing, and its trunk supplied timber. The date palm is 40 to 60 feet tall, with a thick, unbranched trunk and pinnate or feather-like leaves 4 to 6 feet long clustered at the top. It looks similar to the kind of palm trees you may have seen in Florida or Southern California.
The cedar of Lebanon, described two readings ago, was tall, wide, and old. This giant had mythic status for the Israelites as the Tree of trees.
The righteous, says the psalmist, flourish like the palm tree and grow like the cedar of Lebanon. In old age those who embody what is good and right and just still produce fruit and are always green and full of sap. In short, those who walk in the way of the Lord are full of life and are life-giving. Those who embody steadfast love and faithfulness (v. 2) live well. Trees are powerful metaphors for living a godly life. —Steven Bouma-Prediger
Prayer: God of steadfast love and faithfulness, the Righteous One, strengthen us that we may flourish like the palm tree and grow like the cedar of Lebanon.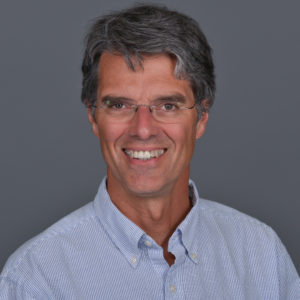 Steve Bouma-Prediger is the Leonard and Marjorie Mass Professor of Reformed Theology at Hope College in Holland, Michigan. A graduate of Hope College, his Ph.D. is in religious studies from The University of Chicago. His most recent book is Earthkeeping and Character: Exploring a Christian Ecological Virtue Ethic.
When not teaching or writing, he spends as much time as possible canoeing or backpacking in his favorite places in North America or simply hiking among the magnificent trees in southwest Michigan parks.